Dr.Faisal Ameer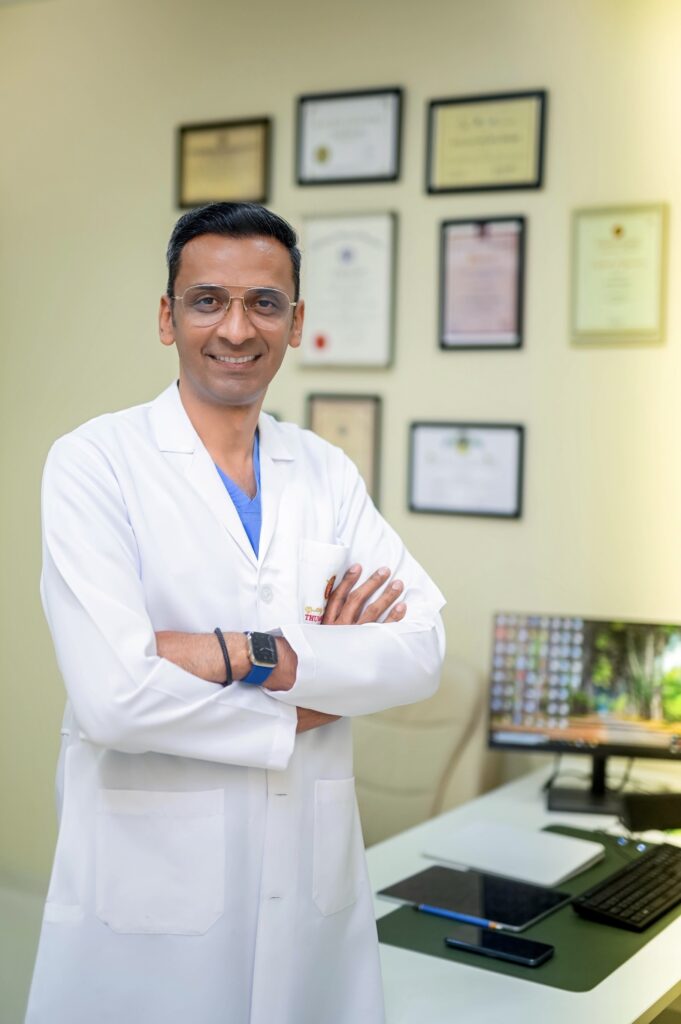 A surgeon with technical excellence with an artistic touch, Dr. Ameer understands the critical difference between change and improvement in plastic surgery and pays strict attention to detail so that every patient may enjoy an enhancement that appears and feels natural. At his practice he abides by the golden rule, providing his patients with the very same level of care that he would expect to receive.
Dr. Ameer is a double board certified plastic surgeon, trained at King George Medical University, Lucknow. He is recipient of the prestigious International Scholar Fellowship Program of the Plastic Surgery Foundation sponsored by American Society of Maxillofacial Surgeons and World Craniofacial Foundation for the year 2015. He is an International Member of the American Society of Plastic Surgery and Member of the Royal College of Surgeons, Edinburgh, UK. He is a Life member of Association of Plastic Surgeons of India and various other plastic, aesthetic and wound care societies. He has done fellowships in Aesthetic surgery, Hand and Microvascular Surgery.
He has been awarded with the Fellowship of the American College of Surgeons, in 2020.
A great, honest, & widely experienced surgeon that can be trusted. His work is magnificent, highly recommended.
I got alar plasty done with the talented Dr.Faisal, hands down the best doctor i've ever met. I highly recommend him to anyone looking for plastic surgery. When I came in for my consultation; his calm, kind & friendly demeanor was very reassuring and I walked out of his office feeling so ensured and excited. My surgery was very successful. Im so happy & satisfied with the results, exactly what i wanted.
Anisa Chandran
June 7, 2022.
I am continually impressed by the results you produce, your work ethics speaks for itself. MaashaAllah, you're blessed with many talents. May Allah bless you more. I'm glad I've met you😇😇😇 you don't always meet a person like Dr Faisal Ameer.
Uduak Obonoh
June 6, 2022.
I had a great time going through the pre op, operation and post op period. He pays details to every aspect and also shows compassion. I healed fast. he was always attending to my questions and worries. I recommend him as the best hand for plastic surgery that I know. Thank you for all you do.
The PureLightning40
May 23, 2022.
Dr. Faisal is an amazing Doctor with great skills and lots of patience. My son had a deep cut in his forehead after he accidently hit his head on the door. It was late evening and Dr had already left the hospital. However he came back to attend to my son. My son was tired and in a lot of pain, but Dr. did a remarkable job in comforting him before and after the surgery. We are so happy with the outcome and Dr did an excellent job
Nicky Pradhan
March 25, 2022.
He is the best doctor cum angel guardian for you . I am saying this because when my sister told me about him I was thinking him just another doc. But he gladly proved me wrong he took my son under his wing . At that time when we needed most . Thank you so much from bottom of our heart always indebted.
Laarni B G
March 22, 2022.
The BEST!!!! There are no other words. I had Rhino and Alarplasty. Never been happier, I so love the result. From our first meeting, I knew I was in good hands.My partner and I were so impressed how good Dr. Faisal is, he is very realistic and do not sugar coat. Surgery was smooth so are follow-ups. By the way, even the hospital is miles away from where I live, it is all worth it. Such an honor to know and be one of Dr. Faisal's patient. Can't wait go back for more services.HIGHLY recommended!!!
Angela Gomez
March 17, 2022.
You made a lifelong dream come true! I wanted to thank you for performing on excellent procedure! I am so so happy with the results, and I greatly appreciate everything you have done for me. Thank you for bringing me back my confidence. You are the best plastic surgeon.
Hani Zayat
February 25, 2022.
From my experience with Dr Faisal he is very friendly and very humble he always share his experience and knowledge and opinions with his patients . He always do what is good for his patients. And the result is always what the patients are expecting. From day one I felt that I am dealing with one of my family because he do care and he follow up with me. Dr faisal I want to wish you all the best in life and all my respect for you thank you for every thing
ahmad al-belbeissi
February 25, 2022.
He is amazing doctor and professional and very helpful and he dose his work with Humanity.
Follow Me
On TikTok & Instagram
---