Best Plastic Surgeon Dubai, Sharjah, Ajman, UAE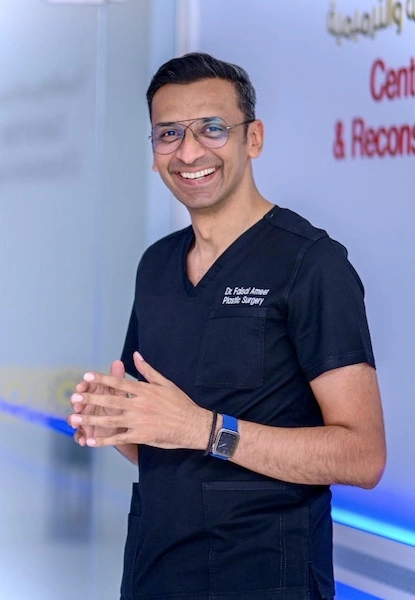 A surgeon with technical excellence with an artistic touch, Dr. Ameer understands the critical difference between change and improvement in plastic surgery and pays strict attention to detail so that every patient may enjoy an enhancement that appears and feels natural. At his practice he abides by the golden rule, providing his patients with the very same level of care that he would expect to receive.
Dr. Faisal Ameer is a highly acclaimed double board certified consultant plastic surgeon who has received glowing reviews from his patients. Dr. Ameer's patients hold him in high regard for his exceptional skills, compassionate approach, and outstanding results.
He is praised for his expertise in various surgical procedures. His patients mention his meticulous attention to detail, highlighting how he carefully listens to their desires and provides personalized treatment plans. Patients frequently express their satisfaction with the outcomes of their surgeries, emphasizing the natural-looking and transformative results they have achieved under Dr. Ameer's care.
leena borah
July 1, 2023.
Best plastic surgeon
I had done the PRP procedure for hair. It was really a painless procedure and the Dr Faisal Ameer is very professional, experienced & very friendly doctor. Highly recommended!!! if you are looking for any cosmetic or plastic surgery procedures.
Sashank Manda
June 1, 2023.
I was suffering from a chronic pilonidal sinus for over a year, tried laser surgery, to no avail. It was a very difficult time for me because it drastically affected my quality of life. I couldn't sit for long hours, the condition would flare up frequently and would soil my clothes with constant low output discharge on a daily basis. I got acquainted with Dr. Faisal through my dad who is also a doctor and I have to say, it was a streamlined process throughout. Right from the day of my first consultation to settling the tedious insurance claims till the day I was discharged from the hospital post surgery and follow ups, Dr. Faisal has been a gem. Extremely professional and knowledgeable with exquisite surgical skill, the procedure was flawless with minimal post-op pain or discomfort. I'm 2 weeks into recovery and am happier than ever. Anybody with a condition that requires the services of a Plastic Surgeon, I'd 10/10 recommend Dr. Faisal.
Dr.faisal ameer has taken my case when no one else was ready. He is a really good doctor who gave me hope to walk again. I am able to move my ankle again after surgery and hopefully walk again. I wish him great success in the future. In Sha Allah.
Kuldeep Kaur
May 11, 2023.
Mr.Faisal was great soul to help my son,when his thumb got crushed at the door. I really felt consoled after having continous visits to him for dressing cleaning and comfort as a parent. He was selfless in his service and made my son v comfortable. I strongly recommend him🙏🏻 God bless him and his fam
Moriel Salanga
April 10, 2023.
I am overwhelmed by the result of Dr Faisal's "artwork" (bleph and rib rhinoplasty). I consider it an artwork coz it is a combination of his expertise and passion towards his field with such an amazing and satisfactory result. Despite of being so tense before the surgery, i was assured that I will be in good hands and indeed i was from day 1 till the day i came back to Kuwait. I'll definitely give 5 stars to Dr Faisal and his team and the Thumbay University Hospital's Tourism department. Shukran ❤️🌺
Alia Albahri
April 7, 2023.
افضل دكتور مر عليه وايده خفيفه والله ما حسيت اني مسويه عمليه the best dr ever 😍😘
chetan kumar
April 1, 2023.
Excellent self experience during the therapy and amazing results after my PRP .strongly suggest others.
Imran Chaudry
March 20, 2023.
میری اُنگلی پر کٹ لگ گیا تھا۰ میں بہت پریشان ہوا اور قریبی ہسپتال پہنچ گیا۰ انہوں نے مجھے ڈاکٹر فیصل کے پاس بھیج دیا۰ ڈاکٹر فیصل بہت ہی شائستہ، ہنرمند اور ذہین ہیں۰ اُنہوں نے بہت باریقی اور اچھے طریقے سے ٹانکے لگا دیے۰ ڈاکٹر فیصل بہت اچھے سرجن ہیں اور میں اُنکا بہت شُکرگُزار ہوں۰
A recurring theme in the reviews is Dr. Ameer's compassionate and caring nature. Patients commend his ability to make them feel comfortable and at ease throughout their journey. They appreciate his warm demeanor, patience, and willingness to answer all their questions, ensuring they are well-informed and confident in their decision.
Dr. Ameer's professionalism and dedication to patient safety are highly regarded. Many reviews mention the welcoming and professional environment of his clinic, where patients feel supported and well-cared for. Patients admire his follow-up care, with several mentioning how he provides thorough post-operative instructions and remains accessible for any concerns or questions after surgery.
Overall, Dr. Faisal Ameer has garnered an excellent reputation among his patients. His surgical expertise, compassionate approach, and outstanding results have left a lasting positive impact on numerous individuals. These reviews are a testament to Dr. Ameer's commitment to patient satisfaction, and his patients trust him wholeheartedly with their cosmetic and reconstructive needs.