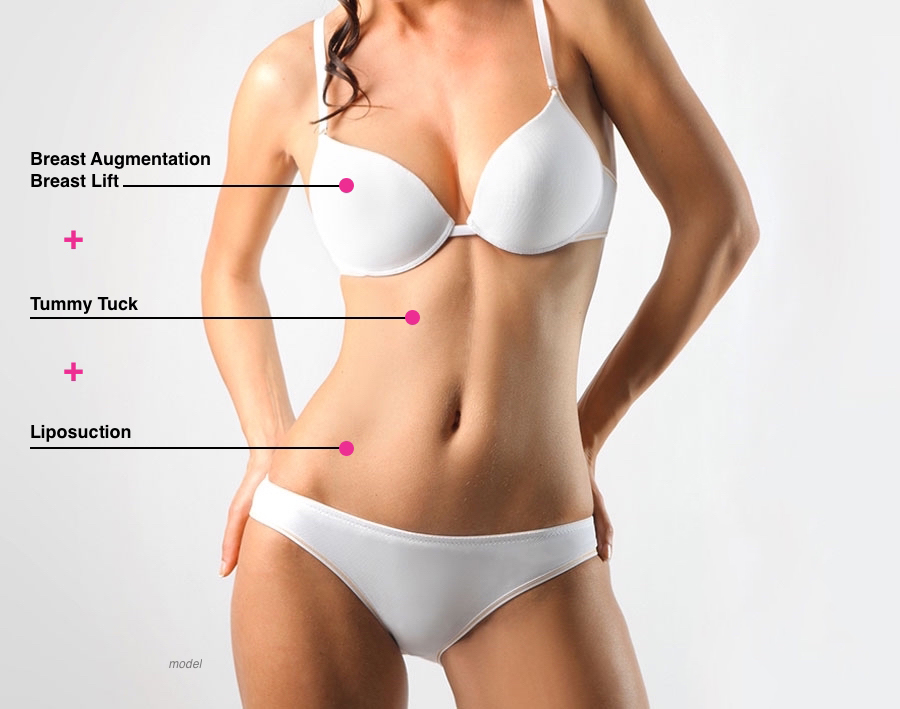 Mommy Makeover
Would you like to regain your shape after childbirth?
Your body went through some tremendous changes through pregnancy, childbirth and breastfeeding. Diet and exercise may have helped, but parts of your body still don't look like they did before you had children. If you feel like you will never be yourself again after having children, mommy makeover will help you reclaim your body so you can look and feel like you again.
What is a Mommy Makeover?
A mommy makeover surgery is a series or combination of cosmetic procedures that reshape and enhance your body after childbirth. After the effects of pregnancy, procedures of the breast and body can help you get back the body you once had. Your surgeon will create your mommy makeover to target the areas where you need and want the most help.
Most mommy makeovers include one or more of the following:
Body reshaping procedure
Tummy Tuck (also known as an abdominoplasty)
Liposuction of problem areas
Depending on the size of the breasts after breastfeeding, mommy makeovers usually include a breast reduction, breast lift, or breast augmentation (breast implant) procedure.
A mommy makeover is recommended for women who do not plan to have additional children. An additional pregnancy can reverse what was corrected during a mommy makeover.
Breast Lift
Breast sagging is a natural occurrence for nearly all women. Breast lifts are recommended if you want to give your breasts a more lifted look after the effects of pregnancy, breastfeeding, aging, gravity, heredity, and/or or weight loss have caused your breasts to lose their natural fullness. Also called a mastopexy, breast lift surgery can restore a more youthful and lifted look if you have sagging breasts, stretched skin, and loss of breast volume.
Breast lift surgery uplifts and improves the shape of your breast(s). A breast lift helps breasts that:
Sag
Have lost firmness and skin elasticity
Have a flatter, elongated shape
When unsupported, the nipple falls below the breast crease
Have a nipple and areola that point downward
Have stretched skin and an enlarged areola
Breast Augmentation
Breast Augmentation
Have you always wanted breasts that were a different size or shape? Every year, thousands of women enhance their figures and improve their self image and self confidence with breast augmentation. Is this the year you do the same?
Breast augmentation, or breast enhancement, is a surgical procedure that increases the size and enhances the shape of your breast by the insertion of an implant. Breast augmentation mammaplasty can enlarge your breasts, increase fullness and projection and improve symmetry.
Breast Reduction
Do you have chronic pain in your back, shoulders, neck and even your breasts? Is it uncomfortable to sit or stand? Is your physical activity restricted due to the size of your breasts? Do your shoulders hurt where your bra straps have put pressure? You might even experience some other symptoms such as frequent muscle tension headaches, tingling and numbness sensations in your fingers. If you answered yes to these questions, you might benefit from breast reduction surgery.
Breast reduction surgery, or reduction mammaplasty, reduces the size of breasts that are disproportionate to your body and cause physical pain. By accomplishing this, the pain in your neck, back, and shoulders is reduced and often eliminated. In addition to the therapeutic benefit of breast reduction, there is the cosmetic benefit of a more pleasing and youthful appearance of the breast.
Liposuction
Liposuction is a procedure used to refine the body's contour with the removal of fat deposits beneath the skin. Fat cells are permanently removed from the directed area, and this results in a thinner, more sculpted physique. Liposuction (lipo) is sometimes done in conjunction with a facelift, thigh lift, breast reduction or tummy tuck. Liposuction may reduce fat deposits in the following areas:
Cheeks, chin and neck
Upper arms and back
Breast or chest area
Abdomen and waist
Hips, thighs, inner knee, buttocks, calves and ankles