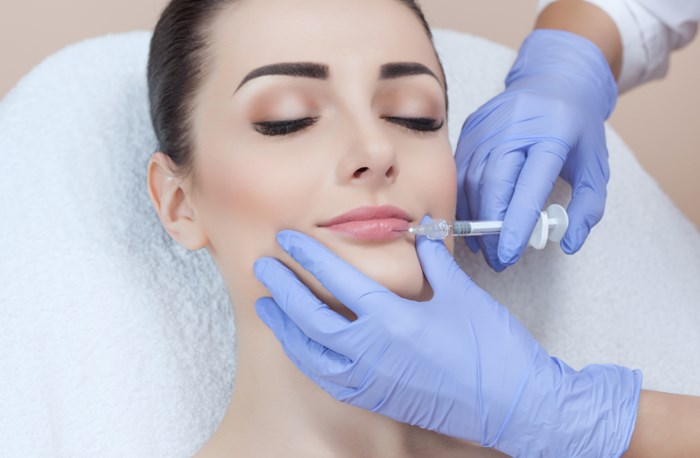 Injectables are an easy, effective and versatile way to lift, tighten and smooth the face. They can temporarily eliminate wrinkles in older patients and delay the appearance of fine lines in younger patients. These perks keep Botox and dermal fillers as the most popular noninvasive treatments in the United States.
So, if everyone wants the same thing out of their injectable treatments, to look younger and more refreshed, why do we still see those expressionless, cherub-cheeked women with unnaturally puffy lips? How can you get an injectable without the worry of looking fake, frozen or just plain overdone? Get started by doing your homework and making a plan.
Don't go to just any provider
Only trust an experienced, board-certified plastic surgeon with your appearance, including noninvasive treatments like injectables. For the most natural-looking and proportionate results, your injector will need to be highly-trained in facial anatomy and experienced with the wide variety of injectable products on the market.
This means that not every injector at your neighborhood medspa will meet these criteria. Nor will your dentist or gynecologist. There is often very little regulation over who gives these injections, so pay attention. To get your desired results, be safe and stick with a board-certified plastic surgeon's office or a medispa they oversee.
Begin conservatively
A good way to find out how well you like the look of a particular injectable treatment is through a conservative first approach. Begin by having only one area treated, such as your crow's feet or forehead lines, to see if the results live up to your expectations.
If your desired results are not quite met, more product can be added. Give Botox at least a week or two before making any decisions as it can take up to 14 days to see the full results. While fillers made with hyaluronic acid can be neutralized and reversed, most undesirable results will take months to wear off.
Avoid too good to be true pricing
Injectables are an economical way to rejuvenate your appearance without the large price tag of a surgical procedure. However, that does not mean they are cheap. When you are deciding where to go for your injectables, do not be swayed by a bargain-priced deal that feels too good to be true. Shifty injectors at pop-up clinics or unlicensed offices may be using counterfeit injectables to keep prices low and profits high. Unregulated products are extremely dangerous, not meeting the stiff standards of the Food and Drug Administration (FDA).
There are countless stories of women who saved money by going to an at-home injection party, only to receive bad products that result in damaged tissues, scarring and are sometimes even fatal. To look your best while protecting your health, skip the discounts and invest in the services of a board-certified plastic surgeon.
Look at before and after photographs
Pictures are the best way to judge the potential results of any cosmetic treatment. Look for before and after photographs of someone with a similar appearance, being treated for the same issue with injectables. If you are a 40-year-old woman with thinning lips, look for a similar patient and the results she was able to achieve with a specific lip filler.
Once you have established reasonable expectations for the results, turn your attention to your potential injector's before and after pictures. This is a great way to judge a provider's experience and ability with injectables like Botox or fillers. See if you like their personal style and artistic eye; perhaps you may think their patients look too unnatural for your taste.
Not many before and after photos available? This can mean the injector is inexperienced or does not have many happy patients willing to show off their results.
Speak up during your consultation
Meeting with your potential provider should not feel likes a sales pitch. A qualified, board-certified cosmetic surgeon will assess your skin and facial shape before going over all of your noninvasive options. He or she should explain what can be done to smooth wrinkles, fine lines and contour features while keeping up a natural-looking appearance.
Ask questions about your provider's background and experience as well as what can be done if you are not happy with the results. These are important things that you must know before making your final decision to get injectables.
Stay close to home
Be extremely wary of booking an out-of-the-country cosmetic treatment holiday. While the price and the location may sound tempting, you may have no idea what you are walking into, and those low-price injectable and cosmetic procedures are likely dramatically less expensive for a reason. These clinics may not operate in the same sterile and sanitary conditions found at home, which compromises your safety and increases the risk of infections. These providers may not be required to work with the same rigorous level of credentialing required of ASPS members. If any problems do arise, your at-home provider may not know exactly how much of what product has been placed.
Choosing an injectable treatment
Today's injectable treatments, from dermal fillers to Botox, are safer and more dependable than they have ever been. With a little research, you can ensure a satisfying injectable experience with natural-looking results. An experienced, board-certified plastic surgeon and their staff are your best defense against the dreaded frozen, overfilled appearance.
The views expressed in this blog are those of the author and do not necessarily reflect the opinions of the American Society of Plastic Surgeons.
Source: How can you get injectables without looking overdone? | ASPS